Custom Web Design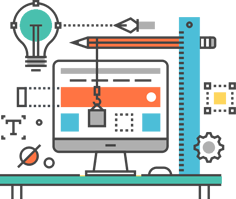 Our custom made websites helps business build their presence and in the most credible manner possible. Gensofts is the leading website designing company India known for reating state of the art custom business websites that help you engage your audience better.
Web Designing Services
Gensofts strives to turn your virtual dreams a reality. We have a team of web designers having required expertise and proficiency in designing eye- catching websites as per your business needs.
Our web designing team puts its core focus on two key aspects of designing- attraction and interaction. We precisely combine all the website elements together to enable you spread your brand message better. Our Website designing services include:
Custom Web Design
Dynamic Website Design
Responsive Web Design
Web Portal Design
Template Design
Corporate Website Design
Static Website Design
Expert web designing solutions:
Gensofts offers a complete range of website designing services spans across business websites, and CMS based websites to custom e-commerce web design services. Highlight of our services is our ability that's driven by pure business logic and aim at offering great user-experience.
We Understand Web Designing Better:
A website designed with eye catching and interactive, have better user experience, lesser bounce rates is always stand out to give you a competitive edge.
Our creative website designing team understands your business needs better, therefore, includes in process your objectives & target niche before starting the designing process. Following are the reasons why the websites we design under our website designing service spectrum are best of the breed and the most admired:
Cross-Platform usability
Responsive across devices
Great site usability
Easy to use
Fully functional
Mobile ready version
Precise and concise navigation
SEO friendly
Why Gensofts?
Gensofts has a team of professional and creative website designers who work on a fully-planned and time-bound project plan. They follow a personalized approach to understand your web design requirements. Until we get into the sync with what you exactly want, we don't begin the project.
At Gensofts, we are obsessed to deliver the best website designing solutions to our clients. Give us a call, or drop us a mail to get in touch with our web designing team.