Magento ECommerce Development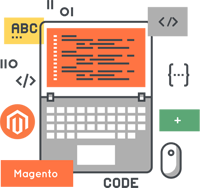 Magento is widely used open source technology for website and application development. It's completely open-source and an enterprise edition built on the robust PHP programming language and the tried-and- tested LAMP stack.
Magento is the most popular and widely deployed platform for developing enterprise grade ecommerce solutions. With modular code base, ability for greater data volume management, enhanced security, comprehensive and up-to- date documentation and automated and built-in testing, Magento becomes the numero uno choice for enterprise grade Magento ecommerce solutions and online stores.
Magento e-commerce @ Gensofts:
Gensofts' Magneto solutions help you to establish an end-to- end online shopping portal with cutting edge features. Create catalogues and manage product listings like never before. Our robust and fully functional Magento solutions ease the complexities of running an ecommerce store.
Custom Magento Development
Magento Ecommerce Development
Magento Extensions Development
Magento Theme Development
Magento Module Development
Multi-Store Development
Magento Template Customization
Maintenance / Data Migration
Our strategic expertise and technical skill set brings global exposure and expertise to every ecommerce solution we deliver. With over 10+| years of extensive experience in the e-commerce industry, Gensofts India understands the pre-requisites for running full-fledged successful e-commerce ventures.
Gensofts for Seamless Magento Development:
Gensofts' Magento based ecommerce solutions are meant to empower your online store with exceptional and powerful features. During the development, we analyze your business requirements and develop simple as well as complex web processes using various open source technologies and Magento based supportive frameworks.
We therefore design, develop and deploy ecommerce solutions that are tailored for your online business and help you grow even bigger. Following are the salient features of our e-commerce products:
Structured and scalable catalog
Custom merchandising
Cross-selling and up-selling features
Promotion rules
Customer Segmentation
Multisite, Multilanguage, multi-currency support
Loyalty points, vouchers and coupons
Multiple Delivery and payment methods
SEO friendly themes
Contact Gensofts for Magento:
Our in-house Magento development team prioritizes your actual business requirements and delivers scalable Magento based ecommerce products, specially built for your business.
Flexible development and deployment engagement models
50+ professional programmers at work
Industry certified development methodologies
Robust and strong technology competency
100% satisfaction
Competitive pricing
24/7 support
Access the largest pools of certified Magento professionals at Gensofts. They deliver cost-effective and hyper flexible B2B and B2C e-commerce solutions that empower and transform your business.
Want to know more?
Give us a call now.