PHP Development Services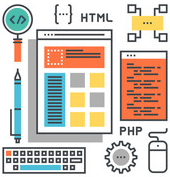 Gensofts is a reputed PHP development company offering the widest range of custom PHP application development services that not only accelerates your business to the next level, but also streamlines internal processes and enhance growth.
We have a team of highly proficient and talented PHP developers with massive experience in custom PHP application development. They are expert in building mission-critical web applications backed by professional project management processes and development methodologies.
PHP Development @ Gensofts
Our PHP web development team has successfully leveraged the power server side scripting language and open source technologies like PHP to develop highly dynamic websites, complex web applications and database-driven websites.
While designing PHP applications, our PHP experts comply with industry best practices to deliver mature PHP solutions to align clients' business strategies. Our PHP application development covers the following:
Custom PHP application development
Custom PHP programming and scripting
Custom PHP product development
Existing application porting and migration
PHP and Flash/Flex Integration
PHP and Active Directory Integration Services
PHP Web Application Development:
Our PHP developers pose strong experience in highly secured and high performance web applications development. They are proficient in multiple PHP versions ranging from 4.x to 5.x of PHP.
They have so far delivered numerous projects in database layer development with FileMaker, MySQL, SQL Server, Postgre-SQL (Pgsql) to build 2-tier and 3-tier web applications.
Our developers boasts of their knowledge in many rich internet applications with PHP using HTML5, JavaScript, AJAX, JQuery, Node.JS, extJS, MooTools.
Skilled PHP developers
Use of the latest tools and technologies
Regular reporting and project updates
Fast turnaround time
Cost effective solutions
Gensofts's expertise in PHP Development
Gensofts is industry leaders in PHP application development genre. We have established several benchmarks in development of 100% user-friendly and interactive web applications and web solutions with both creativity and imagination.
PHP to Node.js Migration
PHP to JavaScript Migration
PHP to ASP.Net Migration
PHP website to Migration
Our PHP programmers take full advantage of open script programming languages to create the pages with dynamic interface and other portal specific functionalities.
Contact Gensofts for PHP Development:
Whether you need an internal website / business portal or a complete PHP based web portal / e-commerce solution, give Gensofts a call. Our experts will get in touch with you with affordable PHP development quotes.