PPC Management Services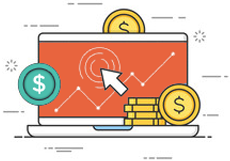 Gensofts is a top-notch and globally acclaimed pay per click (PPC) management company India known for its expert pool of PPC professionals and extensive industry experience in PPC management domain.
PPC Management @ Gensofts:
Since our inception, we have been delivering high ROI through constant monitoring, testing and precise targeting of keywords. This makes us preferred PPC partner by global businesses n businesses from around the world.
Irrespective of what the budget you have for your campaign, we can manage your PPC ad campaign so that you get the maximum returns on investment and complete peace of mind. Following are the highlights of our PPC management services:
Keyword Discovery and Selection
Ad Text Creation
Help with Optimizing Landing Pages
Conversion Tracking
Call Tracking
Ad Submission
PPC Monitoring
Expert and Managed PPC Campaigns:
PPC campaign management is a very comprehensive process that needs attention, research and analysis. That's why it's required that you must go with a PPC marketing agency that offers professional PPC management for highest returns. Our PPC management and marketing helps you get your business noticed by your potential customers quickly and efficiently.
Why Gensofts for PPC Management?
Being an online business geek, you don't need just traffic, but relevant traffic as well. To get your goals achieved and business flourished, you can choose an experienced PPC company which can start delivering traffic stats in just hours after launching your Google AdWords or Bing campaign.
PPC management services at Gensofts help you target your possible audience and improve your ads performance with ease.
It's time to Launch your first PPC campaign:
When you're with Gensofts, you're with the right PPC management company in India. Our PPC ninjas not only assist you in picking right campaign keywords, but also guide you in building the right strategies for successful campaign execution. For Gensofts team, the aim is to ensure that the traffic and revenue towards your brand, rises persistently!